I have replaced one meal (dinner) with salad for the past couple of days now. They fill you up quite well but I was struggling to get my macros in that meal.
Until I landed on a way to make a 'Nourish bowl'. The root of the Bowl is choosing nutrient dense veggies, fruits/carbohydrates, healthy fats, and quality proteins to make a filling meal in a bowl.
It's a perfect meal-in-a-bowl and completely nourishing when you're choosing your toppings wisely.
Note that this the recipe that I found. But I would suggest swapping certain exotic veggies, with locally grown ones as long as you can get the tentative macros from the substitutes
INGREDIENTS
(Macro Classifications)
Greens | spinach, romaine, arugula, kale, micro greens, sprouts, mustard greens, swiss chard, etc.
Proteins | tempeh, beans, quinoa and lentils (starchy-proteins), hemp seeds, nuts/seeds, nutritional yeast (not a "protein", but loaded with plant-based protein).

Vegetarian friendly (ovo-, pesca-, lacto-): farm fresh eggs and wild-caught fish. Animal proteins: quality sources only.

Healthy fats | avocado, olive oil, olives, nuts, seeds, hemp seeds, grapeseed oil, sesame oil, truffle oil
Veggies | carrots, bell peppers, cucumbers, zucchini, snap peas, peas, radish, green beans, broccoli, cauliflower; any and all veggies you enjoy!
Carbohydrates | sweet potatoes, quinoa, millet, brown rice, wild rice, beans (starchy-protein), corn and peas (starchy veggie).

Fruits: strawberries, pears, banana, papaya, mango, grapes, raspberries, apples, etc.

Dressings | my favorite is 2 tablespoons hummus + 2-4 tablespoon apple cider vinegar + 2 tablespoons of nutritional yeast = a super thick and creamy dressing.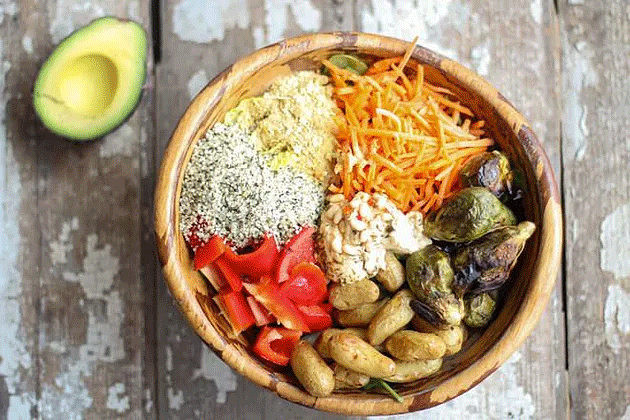 Nourish Bowl
Author: McKel Hill, MS, RD, LDN
Recipe type: entree, salad
Prep time: 10 mins Total time: 10 mins
Serves: 1

INGREDIENTS
2 cups romaine, roughly chopped
1 cup spinach
4-5 roasted brussels sprouts (from batch cooking day)
1 roasted sweet potato
½ cup carrots, shredded or diced
¼ cup cucumber, sliced thinly
¼ of an avocado
3 tablespoons nutritional yeast
3 tablespoons hemp seeds
2 tablespoons hummus (of your choice)
fresh squeezed lemon
2 tablespoons apple cider vinegar
dash of kelp granules
dash of cayenne pepper (optional)

INSTRUCTIONS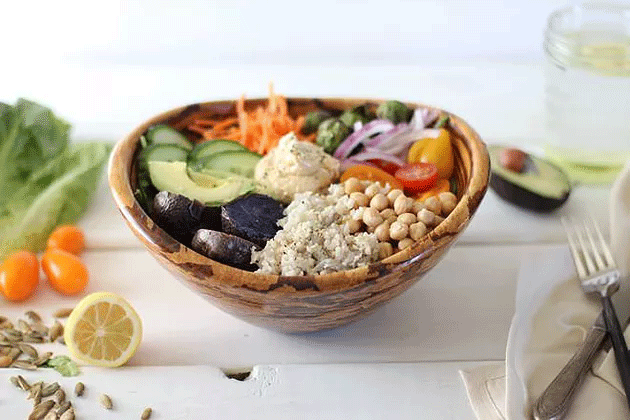 Start by filling a large salad bowl with the dark leafy greens.
Next, top with all the remaining vegetables, sweet potatoes, and hemp seeds; piling them in their own "spot" in the bowl.
You can arrange each ingredient in a pile and then wait to stir everything together, or you can simply top the dark leafy greens with all the remaining ingredients at the same time and stir thoroughly.
The nutritional yeast + the hummus + the apple cider vinegar makes for a thick and creamy dressing on it's own.
Serve and enjoy!