Stim-Free Pre-Workout – NutraBio Pre Stim-Free 20/Servings
Nutrabio Pre workout stimulant Free, as the name implies, is our stimulant-free version of our pre formula. We created PRE Stim-Free for those individuals who are sensitive to ingredients such as caffeine, hit the gym late at night, or otherwise want a pre-workout with the performance-boosting ingredients found in PRE minus the stimulants. To that extent, we can say PRE Stim-Free is absolutely the most thorough, effective, and purest stimulant-free pre-workout in existence.
Looking for a pre-workout that will deliver all of the workout benefits you need without all the stimulants? Try NutraBio Pre Stim-Free!
NutraBio Pre Stim-Free Benefits
Boosts Energy
Increases Reps & Endurance
Enhances Mental Focus
Boosts Performance & Recovery
Full Label Disclosure
NutraBio Pre Stim-Free Flavors
Watermelon
Dragonfruit Candy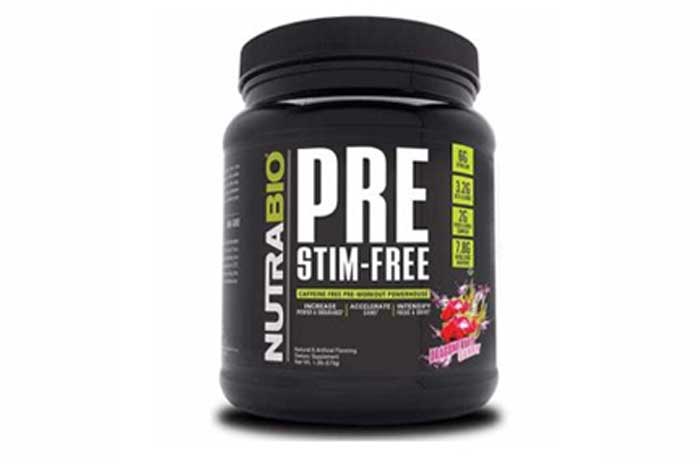 How to Take Nutrabio Pre workout stimulant free
Take as a dietary supplement. Mix 1 heaping scoop of PRE Stim-Free with 12-14oz. of water and take 30-45 minutes prior to resistance training. Vary the amount of water to achieve your preferred flavor level. DO NOT EXCEED 1 SCOOP IN ANY 24 HOUR PERIOD OR USE MORE THAN 5 DAYS IN ANY 7 DAY PERIOD.
NutraBio Pre Stim Free Ingredients
Supplement Facts
Serving Size: 1 Scoop (28.64)
Servings per Container: 20
Amount per Serving % DV
C Vitamin (as ascorbic acid USP) 150mg 250%*
B3 Vitamin (as niacin) 30mg 150%*
B6 Vitamin (as pyridoxine HCl) 50mg 2500%*
B12 Vitamin (as methylcobalamin) 150mcg 2500%*
Calcium (Calci-K) 95mg 10%*
Phosphorus (Calci-K) 89mg 8%*
Magnesium (Creatine MagnaPower)40mg 10%*
Sodium 60mg 2%*
Potassium (Calci-K) 80mg 2%*
Power, Strength, & Endurance Complex (13.42g)
L-Leucine (naturally fermented – vegan)(HPLC) 3.5g **
CarnoSyn Beta-Alanine (HPLC) 3.2g **
PharmaPure Creatine Monohydrate (micronized, HPLC) 3g **
Betanine Anhydrous (trimethylglycine)(HPLC) 2.5g **
Malic Acid 720mg **
Creatine MagnaPower (Magnesium Creatine Chelate) 500mg **
Nitric Oxide Pump Matrix (7.75g)
L-Citrulline (fermented)(HPLC) 6g **
Agmatine Sulfate (HPLC) 1g **
Nitrosigine (inositol-stabilized arginine silicate) 750mg **
Focus & Drive Complex (2g)
L-Tyrosine (HPLC) 1.5g **
Choline Bitartrate (VitaCholine) 500mg **
Huperzine A (from 10mg huperzia serrata leaf standardized extract) 100mcg **
Electrolyte & Hydration Optimizer (2.71g)
Taurine (HPLC) 2g **
Calcium Potassium Phosphate Citrate (Calci-K) 525mg **
Sodium Phosphate 189mg **
*Percent Daily Values (DV) are based on a 2000 calorie diet.
**Daily Value (DV) not established.
Other ingredients: Flavoring (citric acid 1.4g, natural & artificial flavors 750mg, sucralose 210mg, acesulfame potassium 30mg), beet powder 50mg (color).
Collect Financial Numismatic And Arts Services Private Limited is an Authentic Online and Offline Supplement Store in Nagpur for Protein, Health, Nutrition, NutraBio Pre Stim-Free, and Bodybuilding. We are authorized dealers of Nutrabio India. We provide services like Diet Consultant, authorized dealers of Nutrition Supplements and Health Cafe.
Collect Financial Numismatic And Arts Services Private Limited is a well-known nutrition supplement provider in Nagpur and diet consultant in Nagpur. And if you are a foodie, we also take care of your health. At The Health Cafe Our Cafe, you eat your favorite food, in a healthy way.